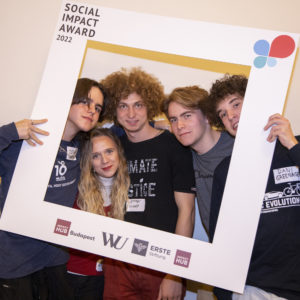 I am a hungarian business student living in Austria. This allows me to see two different countries, their advantages and disadvantages and has led to me having a larger perspective. My passion is entrepreneurship. It always has been. Working on something new, to make a difference in the world. Since I was 9 years old I have been making businesses at school. My dream is a world where social businesses where companies earn money by making positive impact.
I'm 18 and have been drawing, painting and working with digital art programs for 4 years. I'm planning on going forward in animation in the future. I learned screen-printing a year ago and made shirts for me and my friends. 
After this I teamed up with the current Greenager team. My goal is to creatively recycle as much waste as I can. And with this to bring attention to the growing problem of climate change.
I'm 18, and go to an economics oriented school. I have always felt conserving the environment is a really important part of my life. I also have an interest in fashion, but have been taken a back by its impact on nature.
Being a part of greenager is amazing, it combines some of the things that are very important to me and it help me spread the message that i find the most important.
I'm 17 and have been programming for 3 years. I have always cared for the environment and find the waste produced by the textile industry unacceptable.
I joined Greenager because I feel that through this company we have a chance to bring lasting change to the world. I can't wait to make big changes with Greenager.
I am Szabó Kármen, a university student, the only female member of the team. Even during my high school years climate protection was important to me, I mostly wore second-hand clothes and I was even proud of it. I have participated in climate demonstrations and when I got to know Greenager I had the opportunity to express my opinion not only at those events but also to wear it. I want as many of us as possible to be climate conscious and I am grateful that Sunny created Greenager because this brings this topic closer to people and we can also contribute a little to the world

Currently working as COO, I have over 15 years of experience at a global software company. I have, among others, extensive management and leadership skills that I'd like to put into service for Greenager. I'm passionate about sustainability and social entrepreneurship and hope that with Greenager we can make the world a better place!